Before – Poor Installation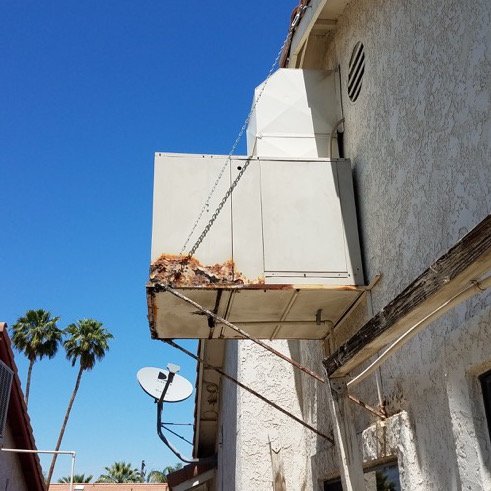 After – Desert Cooler Specialist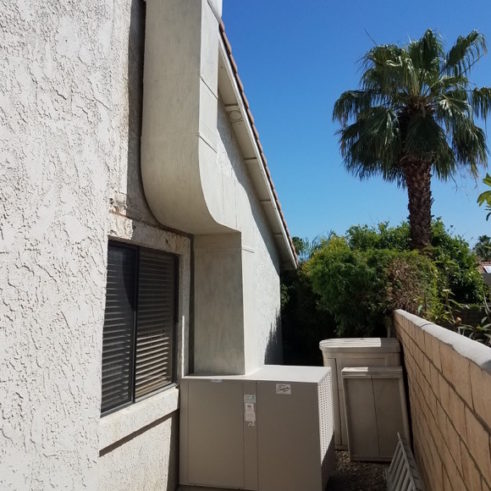 I am beyond happy with my choice of having Desert Cooler Specialist install my new cooler. It's working great and nice and quiet. Buff and his crew are beyond the best. The vents were placed in the correct spot something the other companies weren't that knowledgeable about. Thanks Guys…. I'm looking forward to a long and happy relationship with you maintaining my new unit as well.
Vicki L.
They Treat Their Customers Well
I really like the people over at Desert Cooler Specialist because they treat their customers very well. When you go in they greet you nicely and make you feel comfortable from the get go. They explain things really well so that you know exactly what you are getting which is nice. I also really like the way that Buff advertises things. He is very clear in his advertisements and the deals that he offers are really top notch. I would definitely recommend Desert Cooler Specialist to anyone.
Paula R., Palm Desert, CA
They'll Go Above and Beyond
Desert Cooler Specialist replaced my thirty year old unit which I was holding together with band-aids and duct tape. Everything from beginning to end in replacing my old one and installing one of their new units was done efficiently.They gave me a couple of options for bids and once I'd decided on what I wanted, it was easy to schedule a date with them. They arrived five minutes before the appointed time, and just went ahead and did their thing. I wasn't there the whole time, but my mom was, and she said they were professional. When the installation was complete, they walked me through the process as well as the all other details. I felt they had gone above and beyond.
Robert B., Desert Hot Springs, CA
Awesome group of worker's. Buff is the best.
The overall company was suggested to us from a friend who had used them. We ended up with a top of the line evaporative cooler. I must have asked a bazillion question's and Buff answered them all. We are extremely impressed with it and now we don't even use our a/c.
Thanks boy's.
Linda K., Palm Springs , CA
TERRIFIC COMPANY
Desert Cooler Specialist, Inc. has been our swamp cooler company for about 16 years, since we first bought our house. Buff is terrific. He recently came out to start up our swamp cooler. He's a great guy, easy to work with and stays on top of things when it comes to maintenance. I would definitely recommend the company to anyone.
Harvy H., Palm Springs, CA
GREAT SERVICE
We used Desert Cooler Specialist, Inc. to install in a whole new EVAP system/swamp cooler. They did a great job with the installation and now we have them do the servicing for that system. The price was very fair and we really like the care and maintenance they give our cooler system. We absolutely recommend them to others.
Bob M., Cathedral City, CA
Great Service
I have been struggling to keep a 15 year old Master Cool working. It got beyond my ability. I called Desert Cooler Specialists. Buff came out and he and his partner got it preforming like new. I highly recommend them.
John A., Indian Wells, CA
Best To Work With In The Valley!
I have been using Desert Cooler Specialist for 20 years now! Buff is an honest person and he is the best to deal with here in the valley! Most recently, they installed a new evaporative cooler for me. The workers were on time and very respectful of my home. Of all the companies I interviewed, they were the only ones to tell me about the Southern California rebate program. That has been incredibly helpful for me.
Andy D., Palm Springs, CA
Great service
They showed up when expected and very quickly analyzed the problems and wrote up 3 solutions with pricing. I knew that I needed a lot done. Hadn't been serviced for years. It's cooling so much better. Just like new. Haven't used A/C yet and we've had some almost record hot days. I was very comfortable with the guys. Very nice people which is very important for me.
Linda V., Palm Springs, CA
Dear friends,
Last Thursday, you folks installed a new evaporative cooler for us, as well as doing a bit of electrical work, and installing a new thermostat.
We just want you to know how delighted we are with your workmen and their workmanship. I do not remember the name of the young man in charge, but we so much appreciated the fact that he did not reek of tobacco smoke, and used clean language. This is not always the case with service techs these days.
We were also very pleased and happy with the fact, that not only did they do an excellent job, but even cleaned up after themselves, taking time to vacuum under the cooler inlet, and shaking out a towel that had accumulated some dust.
We will be most happy to recommend your business to anyone looking for quality service. We surely have been very pleased and satisfied with your work and your demeanor.
Sincerely yours,
Herb and Anna May W.
Hi Buff,
My husband and I really want to thank you for the great work you did for us putting in the swamp cooler. We love it – It's really helped with the cooling and livability and also the sleep-ability, using the manual mode, for our house here in Palm Springs. It's also helped with the water temperature overall for the house, from the treatment to the pipes and the foaming of them that ya'all did. Additionally, it's brought down the electricity bill by about 30%, based on the usage figures. So all around for us it's been a win.
So, thanks so much for making the whole process easy, and for staying on time, coming in at a budget we could afford, and doing it in a way that didn't upset the neighbors (or ourselves). It's all been great and we really look forward to recommending your work!
Best regards,
JoAnn and Ed
Dear Buff,
I would like to tell you how happy I am with the new evaporative cooler installed by Desert Cooler Specialists. Buff Brown and his crew did an exceptional job. My house does not have an attic yet they figured out a way to put vents in all the rooms. My first electric bill since the installation was $30.00 less than when I was running a small AC and fans to try to stay cool. Thanks Desert Cooler Specialists for a super job it is wonderful to be cool.
Dina K.
We listen to your requests and guide you through every detail of the process. You choose the option that best fits your needs.